We strive to be good neighbors and stewards of the environment. Our business practices have been nationally recognized for emphasizing environmental responsibility. Green approaches are embedded in all areas of operations, with a particular focus on energy resiliency, sustainable sourcing, food waste reduction, and plastic reduction.
In support of our local communities, we also engage our staff and partners in volunteer activities, partnerships, and in-kind donation programs.
Sustainable Energy Sourcing & Efficiencies
By sourcing greener, sustainable energy from San Diego Community Power—a nonprofit, community-based clean energy provider—we have increased our renewable percentage from 31% to 50%.
To reduce consumption, our entire facility uses LED light fixtures, including our iconic Sails Pavilion. This investment has helped lower our electricity usage, and we estimate the bulbs paid for themselves in fewer than two years. Additional efficiencies include energy-efficient appliances in our kitchens, saving electricity and water, and digital signage that helps minimize the need for single-use signage.
Industry-Leading Food & Beverage Practices
Our goal of elevating the culinary experience for attendees concurrently aims to reduce our environmental impact. "For many meeting planners, sustainable food practices are a 'must' – no longer a perk or an afterthought. It's a value we share with our clients," said Sufi Karaien, SDCC's Executive Chef.
Local sourcing of fruits, vegetables, seafood, and other products are core to the operation. SDCC purchases within a 150-mile radius (whenever season permits) and participates in local composting programs. The kitchens do not have in-sink garbage disposal units; instead, the team is trained to place all excess food scraps into the green compost bins.
Our recycling program includes 4-stream waste receptacles divided into paper, recyclables, trash, and compost. We also prioritize the purchasing of products made with recyclable and biodegradable materials.
The green approach extends to hydration: water bottle refill stations are available throughout the lobbies on the upper and lower levels.
Outdoor landscaping uses drought-tolerant plants, drip irrigation, and mulch to reduce watering.
Positioned in the heart of downtown, our central location reduces car dependence. The San Diego Convention Center is located:
Within walking distance of numerous hotels, restaurants, shops, and attractions. In 2023, The Wall Street Journal ranked us #5 for walkability out of all convention centers in the United States!
Next to a San Diego Trolley stop and less than a mile from a train station (Santa Fe Depot) that connects employees and visitors to North San Diego, Los Angeles, and beyond.
Just three miles from the San Diego International Airport.
For guests who travel by car, ten electric vehicle charging stations are available inside the ACE parking garage under our building to encourage EV use.
Beyond our building, sustainable practices are evident across our region. In 2022, the City of San Diego updated the City's Climate Action Plan, setting an aggressive target of net-zero greenhouse gas emissions by 2035.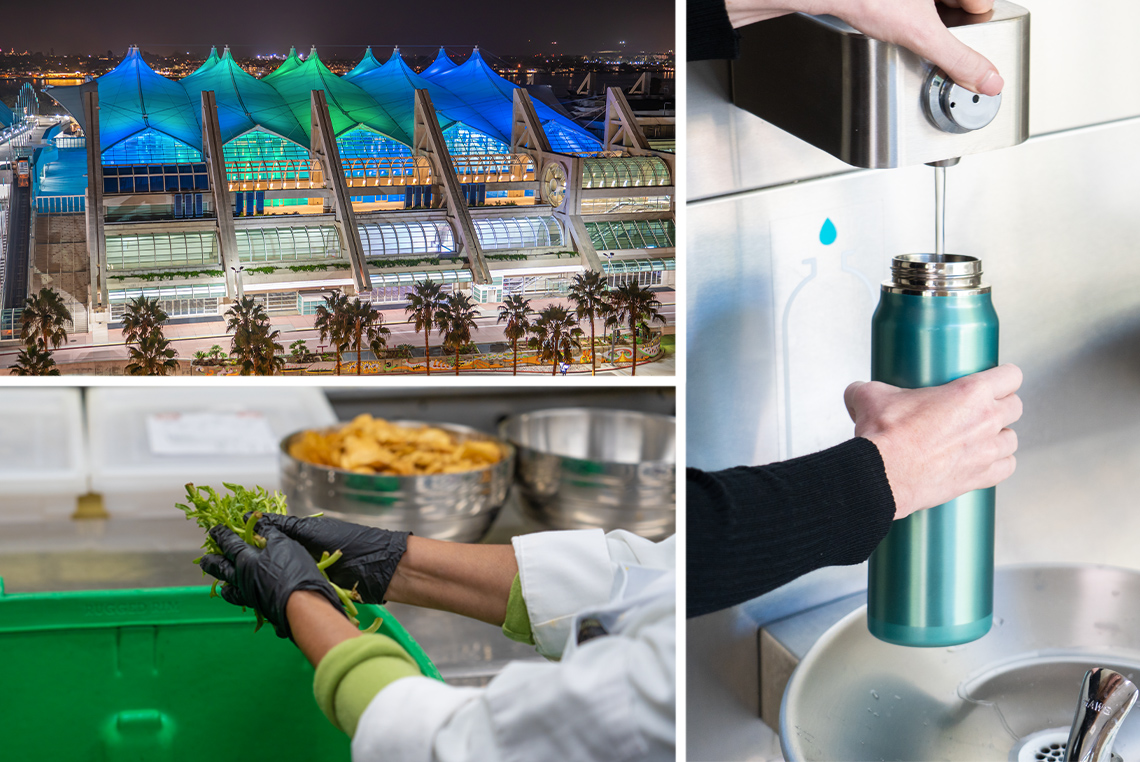 Material & Food Donations
Together with event organizers, we ensure that extra promotional items or event supplies do not go to waste by donating them to local organizations like schools, libraries, churches, nonprofits, shelters and more. These can be all kinds of things: pens, notepads, backpacks, books, chairs, tables and many other types of items unique to the focus of their organization.
For example, we have a partnership with our local Habitat for Humanity to pick up excess booth materials from exhibitions that can be repurposed for building homes. We love seeing this "ripple effect" out into the community!
In addition, we partner with the San Diego Rescue Mission to provide unserved food to San Diegans in need. We're proud to be one of their top donors, giving enough food to plate more than 100,000 meals every year.
As members of the hospitality industry, we enjoy serving others. This community consciousness is felt across our organization, so we support our team to participate in many volunteer initiatives in San Diego, including:
Participating in Operation Clean Sweep, an annual San Diego Bay clean-up day
Baking and donating 100 pumpkin pies to a local nonprofit every Thanksgiving. Mama's Kitchen, the nonprofit recipient, provides nutritional support to San Diego residents at risk of malnutrition due to critical illnesses.
Walking in our local Pride Parade and Susan G Komen Race for the Cure
Volunteering at other community events throughout the year, from planting trees downtown to collecting blankets for San Diegans in need
Our community efforts have been recognized by numerous associations, including through the following recent awards:
Vic Kops Humanitarian Award, Downtown San Diego Partnership, 2022.
Advocate for the Homeless Award, California Travel Association, 2022.
Global Meetings Industry Day Honoree, Meeting Professionals International, San Diego Chapter, 2022.
Key to Ending Homelessness Partner, San Diego Regional Task Force on Homelessness, 2022.
The Ronald Kendrick Memorial Award for Regional Collaboration, San Diego Regional Chamber of Commerce, Rip Rippetoe and Team, 2021.
Building Lighting Requests