We can help you offer successful events that feature in-person programming and virtual components. With our infrastructure and our experienced in-house technology partners ON Site and Smart City, our team can simplify the process for you and assist in creating an incredible event experience.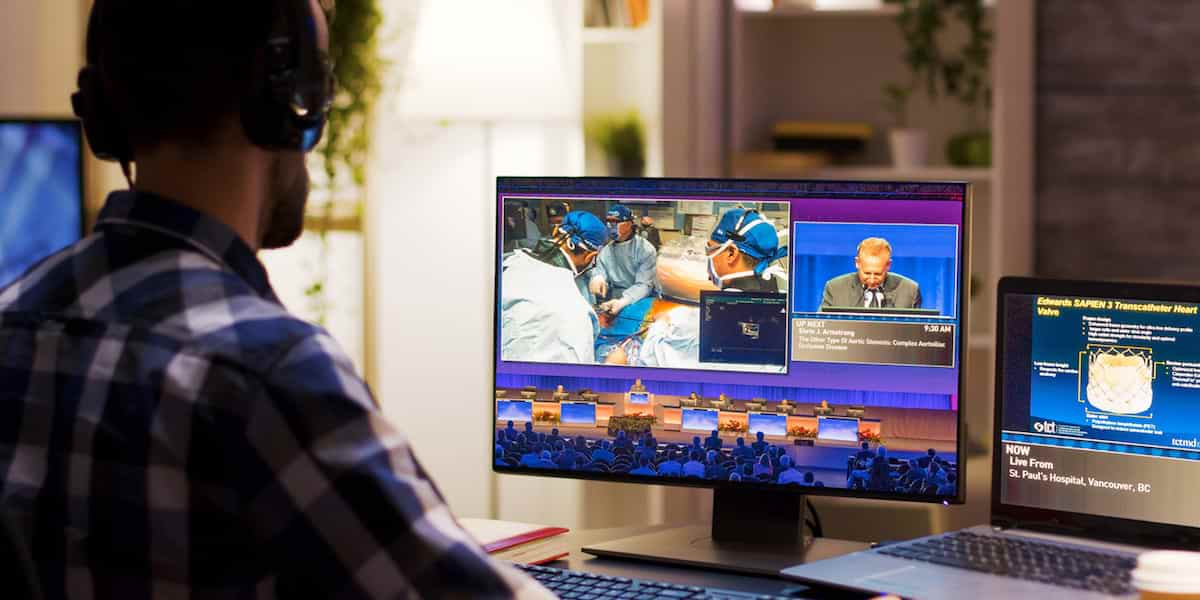 Partners
The ON Site team provides equipment, platform, labor, content creation, program and technical direction and more.
Smart City will ensure you have the necessary connections, secure access and dedicated bandwidth for virtual components.
Services
Hybrid event activity may scale from a video call in small meetings to live-streaming sessions for remote viewers to presenting keynotes with multiple live speakers in remote locations interacting with in-person attendees. The following menu includes our most popular offerings; our team is able to customize our services to meet your specific event needs.
Technical Support
Providing technical and consulting support for customers bringing their own software and equipment.


Basic Video Calls
Usually a single speaker on a video call using existing meeting equipment (computer, projector, screen, microphones, camera, lighting) and a platform provided by either the client or ON Site.


Enhanced Video Conferences
Offering a more complex video conference using Zoom, Teams or an equivalent video conferencing platform to better facilitate multiple remote participants. Potentially use split screens or multiple screens to simultaneously show a presentation and speakers.


Production and Technical Direction
Collaborating with you to produce the hybrid programming. This production can involve script-writing, set design, live camera-switching, cueing speakers and routing video feeds.


Reliable & Dedicated Bandwidth
Strong internet connections to meet event needs for video streaming and interactivity. Smart City contracts with at least two carriers with separate points of entry into the facility for bandwidth. Should one circuit fail, we have automatic failover to the back-up circuit so there is no downtime to clients.


Interactive Chat and Polling
Creating virtual lounges where remote viewers can interact with either an in-person or remote speaker. Chat text may appear on screen for the speaker and/or the in-person audience. Polling tools allow for seamless collective interaction between the audience and speaker.
Pre-Event Recordings
Producing video recordings either in advance of an event or before a scheduled release time. Videos may be published on your website or made available to attendees through other methods.
Complete Hybrid Conference Platform
For a fully immersive and cohesive hybrid conference experience, a single platform can be used for broadcast management, virtual lounges, speaker-ready rooms and audience interactions.


Off-Site Broadcast Studio Location
Providing an off-site studio, potentially in a different city, for remote speakers to conduct high-quality live-streaming.


Content Creation and Music Licensing
Assisting with licensing music or other content that you may want to include in your virtual materials. Content creation may include full titles and graphics, custom animations and show theme design.


Physical Distancing Solutions
Facilitating presentation overview rooms and lounges, touchless registration stations and virtual information booths.


Maximizing Sponsorship Opportunities
Supporting you with identifying unique opportunities, maximizing exposure for sponsors during hybrid events and tracking analytics.


24/7 Monitoring & Support
A local team is available during event hours and on-call 24/7. All ports are polled every 3 to 5 minutes for connectivity and network stability. Additional network switches and wireless access points are kept on-hand and connected to networks at all times.