Smart City is our exclusive provider of internet, telephone, cable TV and event radio services. Smart City engineers have the expertise and experience to develop custom network solutions based on your specific event needs.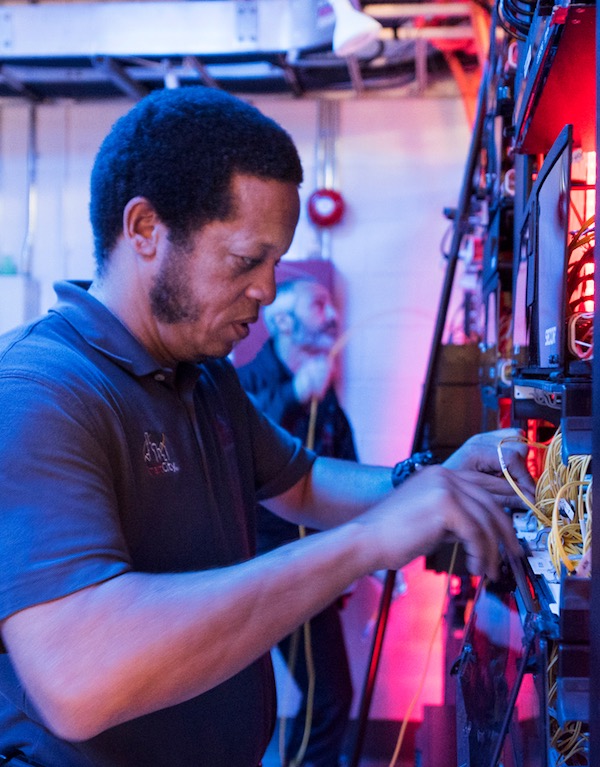 CUSTOMER-FOCUSED AND RELIABLE
24/7 Support
Smart City ensures that customers have connectivity at the right time and place.
A Smart City team member meets with customers before the start of each event to make sure they are fully equipped with information, and their technology needs are met at all points in the process.
Service representatives are located on-site to address issues immediately and a hotline is available to reach a technician day or night.
Technology Services
Internet
From simple high-speed wired internet connectivity to building out a high-density wireless network, Smart City offers fast and secure connections. Multiple tiers of wired and wireless internet service, switch rentals, patch cables and custom floor work are available to meet your specific event requirements.
Attendees benefit from complimentary Wi-Fi in our lobby spaces with the option to upgrade for a higher speed. Smart City's single mode fiber allows for 400 Gbps speeds throughout the building.
Smart City can also create networks for outdoor events and demonstrations.
Telephone
Choose from single, multi- or conference phone lines with a full suite of calling features.


Cable Television
Digital premium or HDTV cable TV service delivers high definition channels with full picture quality.


Event Radio
Digital wave radio rentals offer reliable and dependable communication, and includes up to eight digital talk groups.
Health & Safety
Smart City's technology services support in-person and hybrid event components. Their enhanced health and safety measures include:
Sanitization of all rental equipment (e.g., phone, network switches, adapters and cables)
Installed service lines are disinfected and tagged with disinfection time and date
Radios are delivered in enclosed containers and labeled when sanitized
In-person pricing requests available through QR code