We're excited to welcome you to our venue! Whether you need cleaning, catering, internet or audio visual, we've got you covered.
As the exclusive booth cleaning provider, our team is here to assist you with all cleaning services, including vacuuming, porter services, dry mopping, carpet stain spotting, wet polishing, shampooing, carpet disposal and booth disposal. Exhibitor-appointed contractors, general service contractors and decorators are prohibited from providing cleaning services.
See details about booth cleaning services, rates, terms and conditions (PDF).
Log in to place your booth cleaning requests in advance to take advantage of our discounted rates! Discounted advance rates are available 14 days prior to move in. You will need to create a log-in and register your exhibitor booth.

The online application will close once an event moves in. If you forget to order services in advance, visit the onsite exhibitor services desk (typically 7am-4pm PT, but time varies by event) and our exhibitor services representatives will be happy to assist. You may order services via credit card payment.
For additional details, contact our team at boothcleaning@visitsandiego.com or 619.977.0009.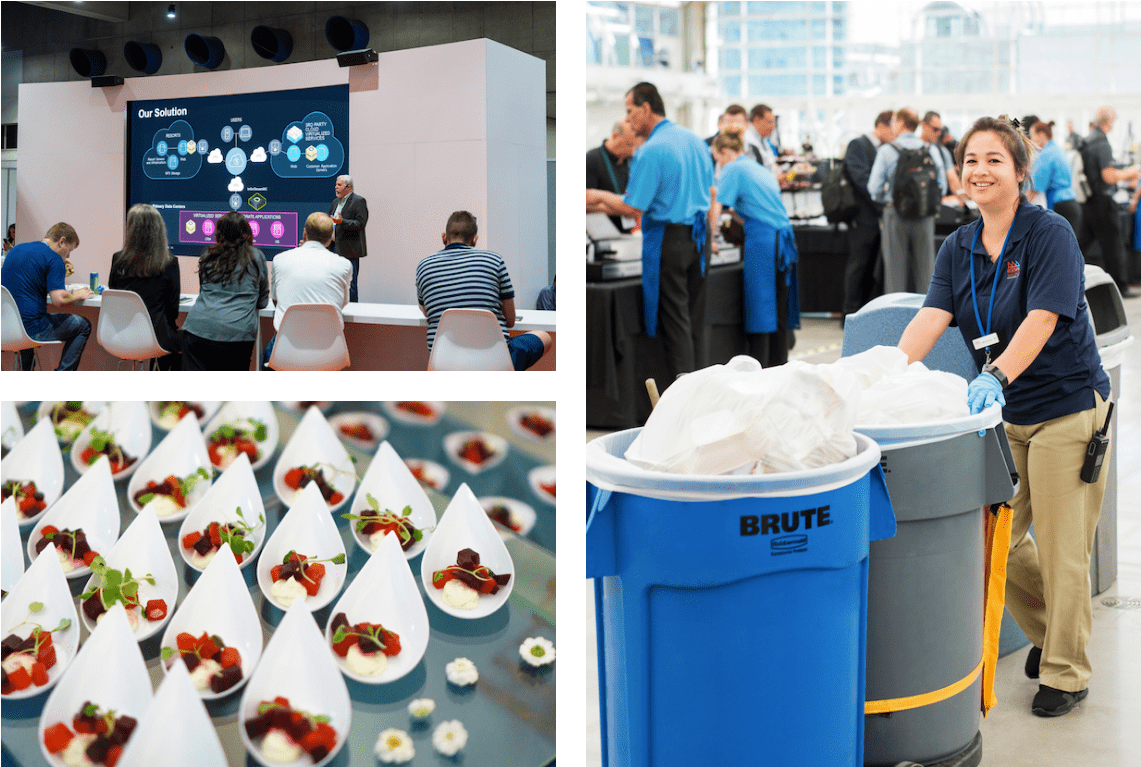 Tasty food and beverages help you stand out and attract people to your exhibit. Our exclusive catering partners offer a complete menu, including hydration stations, breakfast platters, hors d'oeuvres, bite-sized desserts, coffee carts and more. They offer impeccable service and a variety of options to meet your needs.
Our team is ready to help you plan your exhibit booth service. View and download the 2023 booth catering menu. For additional assistance, contact mary.forney@visitsandiego.com or 619.525.5818.
Our skilled and reliable team is here to support you with in-person and hybrid events.
Technology Services: Smart City Networks offers network solutions designed specifically for exhibitors, including phone, internet and Wi-Fi. For additional details, contact Smart City at sdcccsr@smartcity.com or 619.525.5500.
Audio Visual: ON Site Audio Visual is a leading national provider of live event audio-visual services. Boasting one of the largest rental inventories of cutting-edge technology, ON Site has the equipment and the expertise to translate your vision into reality. For additional details, contact ON Site at onsite-sdcc@onservices.com or 619.525.5444.