SAN DIEGO, Calif. (February 18, 2021) –Today, Centerplate – the food and beverage partner to the San Diego Convention Center – reached a milestone of one million meals served to people experiencing homelessness during the COVID-19 pandemic.
The Centerplate team has prepared several thousand meals per day for San Diegans temporarily residing in the San Diego Convention Center, which opened as an emergency shelter on April 1, 2020, under the project name Operation Shelter to Home. The operation has safely sheltered thousands of people and connected more than 1,200 to permanent or longer-term housing so far.
"Centerplate and our Convention Center have been an integral part of Operation Shelter to Home's core mission to keep San Diegans experiencing homelessness safe during this pandemic," said San Diego Mayor Todd Gloria. "This milestone and all of their contributions during the past year to those sheltering in the Convention Center reflect the commitment we have as a city to addressing homelessness together."
Led by General Manager Bobby Ramirez and Executive Chef Daryl O'Donnell, the Centerplate management and culinary staff has gone above and beyond to serve the new clientele, utilizing two main kitchens and six independent teams. At peak, job opportunities were provided to 82 Centerplate employees as a result; even with resident numbers decreasing, work was still provided for 65 employees after regular event activity was put on hold due to the ongoing pandemic. Operation Shelter to Home is currently funded through March 2021.
"The efforts of our team have been admirable, and to do so while adhering to stringent safety protocols has been even more noteworthy," echoed Steve Pangburn, CEO, Centerplate / Sodexo Sports & Leisure. "It is our honor to play our part in supporting the local residents and community of San Diego, and I believe this epitomizes the service spirit that we promote throughout our entire Sodexo family on a daily basis."
Chef O'Donnell and Senior Executive Sous Chef Sufi Karaien plan the meals roughly a week in advance to keep the food balanced and varied. Around the building, Centerplate staff hear from residents about favorites such as Buffalo chicken salad sandwiches, hot dogs, and manicotti. They have prepared special hot meals for holidays and events, like the recent Super Bowl, and organized a sock drive for shelter residents in December.
"This milestone and all of their contributions during the past year to those sheltering in the Convention Center reflect the commitment we have as a city to addressing homelessness together."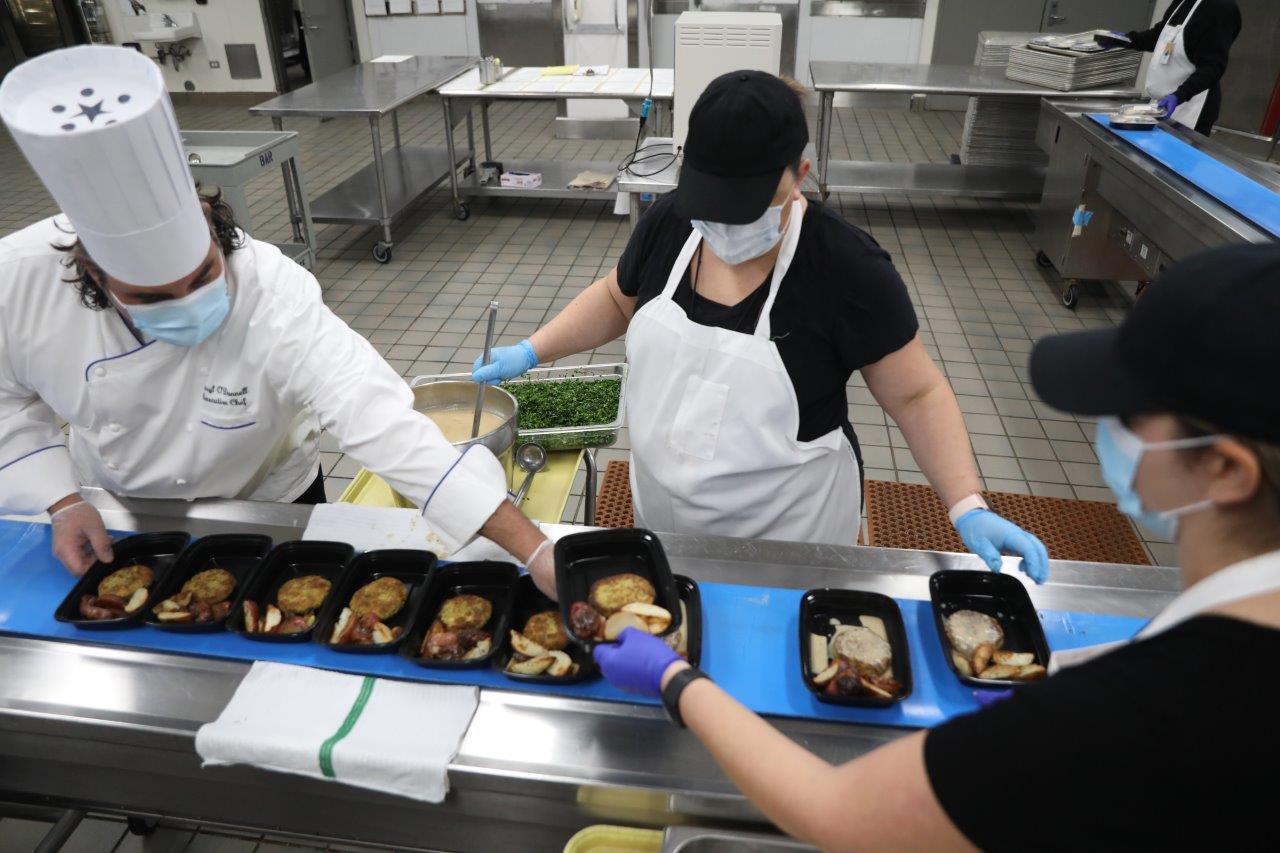 "The operation is seven days per week with multiple meal servings per day, in close coordination with city and county officials," said Bobby Ramirez. "In our line of business, we know how to feed a lot of people – sometimes tens of thousands per day – so we know how to be nimble and solve problems. Our top priority continues to be the safety and health of our consumers and employees amid the biggest health crisis the world has seen in the last 100 years. I am truly grateful for the dedication and commitment our team has shown."
As it does when catering conventions, Centerplate has been using locally sourced and seasonal ingredients whenever possible—an emphasis that has an economic ripple effect in the San Diego region. Centerplate's suppliers include local farms, dairies and specialized markets. For example, many of the vegetables come from family-owned Moceri Produce – where a typical order can consist of 400 pounds of lettuce, 60 pounds of broccoli and 50 pounds of cucumbers. And, most baked products are from Poway-based O'Brien's Boulangerie.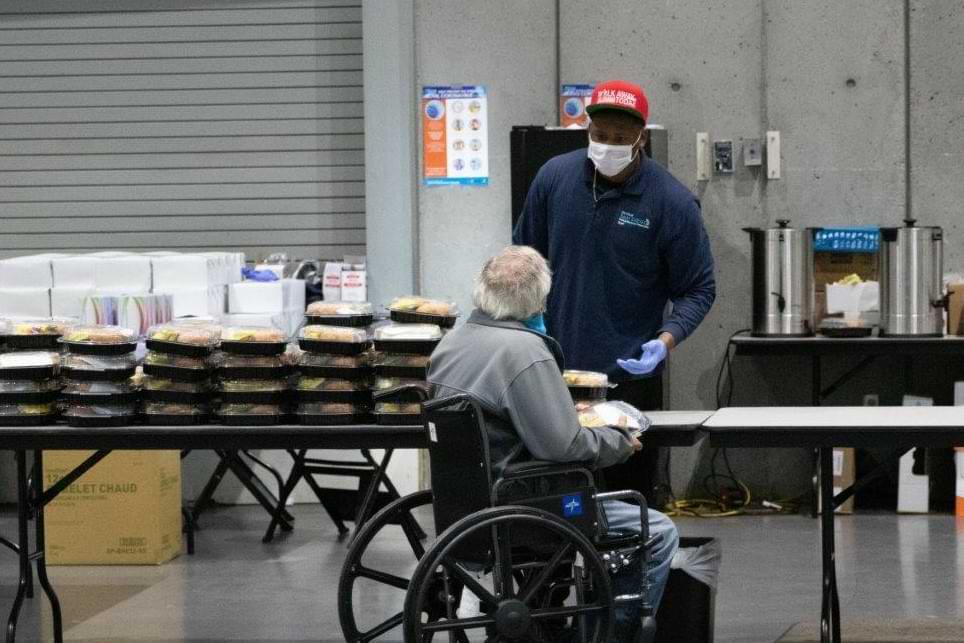 More than 10 Months of Food and Shelter
Operation Shelter to Home began by moving individuals already in shelters into the San Diego Convention Center to allow for proper physical distancing and prevent the spread of COVID-19. Because the effects of the pandemic were creating staffing challenges at the City's various shelters, the program centralized staff in one place to ensure personnel could be efficient even with limited numbers. Since April 2020, the operation has served nearly 4,000 people with a warm and sanitary environment.
"In our building, we're all one team. We thank the tireless efforts of the Centerplate staff and the many local suppliers who work to make this all possible," said Rip Rippetoe, President and CEO of the San Diego Convention Center Corporation.
See the City of San Diego's Operation Shelter to Home page for further updates on the program.
About Centerplate

Centerplate is a leader in live event hospitality, "Making It Better To Be There®" for more than 115 million guests each year at more than 200 prominent entertainment, sports and convention venues. From hosting VIPs at the Super Bowl to superheroes at Comic Con, the company provides hospitality services to North America's premier events. A Sodexo company, Centerplate creates unique, locally-inspired menus, best-in-class guest service, and one-of-a-kind experiences backed by world-class design and insights teams. Visit the company online, connect via Twitter @centerplate, Instagram @Centerplate_ or Facebook.com/centerplate.
About the San Diego Convention Center
The San Diego Convention Center (SDCC) is the region's premier gathering place, hosting conventions, trade shows and community events that economically benefit the City of San Diego and advance the region's convention and tourism industry. The San Diego Convention Center Corporation is a public benefit corporation created by the City of San Diego to exclusively manage, market and operate the 2.6 million sq. ft. waterfront facility. For details, see visitsandiego.com or connect via Twitter @sdconventionctr, Instagram @sdconventionctr or Facebook/sdconventioncenter.
Media Contacts
Paul Pettas, Centerplate
Communications Director
This email address is being protected from spambots. You need JavaScript enabled to view it.
Maren Dougherty, San Diego Convention Center Corporation
Director, Marketing & Communications
This email address is being protected from spambots. You need JavaScript enabled to view it.
Ashley Bailey, City of San Diego
Strategic Communications Officer | Public Safety & Homelessness
This email address is being protected from spambots. You need JavaScript enabled to view it.