For more than eighteen years, Jacquii Bogan-Bailey has worked in public safety for the San Diego Convention Center. While she has been present for many annual events and worked alongside other long-time staff, she said one of her favorite aspects of the job is the variety: no two days are the same.
"I like the ever-changing atmosphere, the diversity of the events we host, and interacting with everyone who works here," Jacquii said.
Over the past year, Jacquii's responsibilities as Public Safety Supervisor have evolved to meet the needs of Operation Shelter to Home and our organization's essential functions until event activity returns. In addition to expanded administrative duties, she continues to respond to medical and incident calls, conduct pre-shift briefings, write reports and monitor posts when staff need breaks. She's also a pro at smiling with her eyes!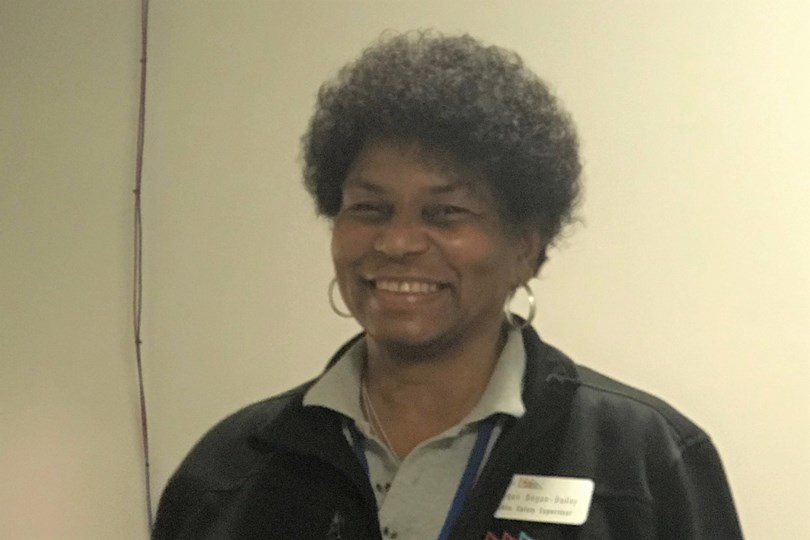 Questions for Jacquii
What have you learned and experienced during this past year?
Operation Shelter to Home has been a great experience. The positive aspects have been interacting with the residents, hearing their stories and seeing how thankful a lot of them are that we have opened the doors for them to have somewhere safe to be. Being able to see the joy and excitement when they are leaving to permanent housing.
Through all of the devastation and lives lost during this pandemic, I have tried to remain humble, thankful, grateful, and patient.
How are you spending your spare time?
My free time has been spent watching a lot of Food Network shows, home improvement shows and Law and Order reruns. The thing I look forward to most is spending whatever time I can with my family and grandkids.
Have you been trying any new recipes?
In addition to working at the Convention Center, I am a cosmetologist who specializes in men and women haircuts. I usually work 25 to 30 hours a week at the second job.
During the salon closures, I picked up a hobby of experimental cooking by using several different chef-inspired meal prep kits such as Home Chef, Hello Fresh, Martha & Marley Spoon, Blue Apron, Every Plate and a few others. I was pleasantly surprised by how delicious most of them are.
Do you have any basic security tips that people can use in their personal lives?
We get so complacent in our everyday lives. My safety tip would be to always be aware of your surroundings.
What are you looking forward to doing once the pandemic ends?
Most of all, I am looking forward to my daughter's wedding and a nice long cruise.
I am also looking forward to getting back to "normal," our events returning, and welcoming our staff, business partners and service contractors back.