One-hundred students representing six San Diego-area high schools have a much better idea of what a career in electronics, engineering and manufacturing looks and feels like. They were invited to participate in an exclusive STEM experience during IPC APEX EXPO, IPC's annual conference and exhibition at the San Diego Convention Center.
The students came from all over San Diego to gather at the Convention Center on Thursday, January 31, for a six-hour industry immersion that made them the youngest attendees at the event. High schools represented included: Morse High School, Mission Hills High School, Otay Ranch High School, San Marcos High School, e3 Civic High and North County Trade Tech High School.
"This experience is so exciting, having the opportunity to be here and represent my school, to see all these professionals in person – this is amazing," said Sara Huffman, a Junior at Mission Hills High School, and one of only four girls in her robotics team. "I hope with us being here, it will inspire other girls to join our robotics team at school."
Mission Hills High School instructor Katie Carl was grateful for the STEM Outreach program, which she said is making an impact towards enriching the students' education before they even start applying to colleges.
"I have never been to the IPC APEX EXPO before, so it's wonderful to have the opportunity to show my students what's outside the classroom," she said. "It's very difficult to teach all scopes of engineering in high school. We can discuss the topic, and I can show them pictures, but nothing compares to the students being able to hear directly today from industry professionals working in the field, specifically electronics and see it actually functioning."
"I feel like this gave me a more real-life experience of how the day-to-day of engineering works and the fundamentals," said San Marcos High School student Esha Mahajan after the hands-on demo.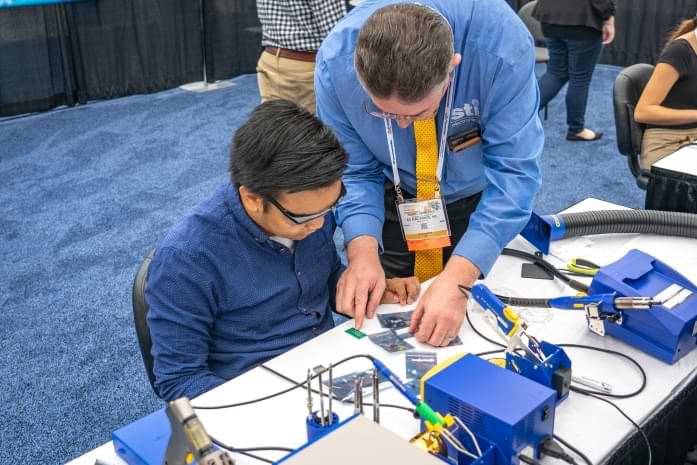 The students toured the exhibit floor and were able to participate in five different activities and stations, including a hands-on lesson with a professional grade soldering iron tool. Soldering is the process of joining two or more electronic parts using a metal alloy solder.
"I feel like this gave me a more real-life experience of how the day-to-day of engineering works and the fundamentals," said San Marcos High School student Esha Mahajan after the hands-on demo. "I just got a better understanding of the robots, how the boards work and what soldering is. I thought it was really cool."
After the demo, the students all received their very own soldering kits.
The IPC STEM Outreach program is just one of the many education initiatives that the newly launched IPC Education Foundation plans to release in 2019.

"The IPC Education Foundation, will help students and the emerging workforce acquire the knowledge and skills necessary to succeed in the electronics industry by preparing the talent pipeline, engaging the emerging workforce, improving the perception of the industry, and offering scholarships to deserving students," said Colette Buscemi, senior director of IPC education programs.

Bob O'Neill, the engineering teacher at San Marcos High School, expressed the impact of the education program had for him and all his students.
"This was almost like visiting 20 tech companies all in one day! I can't thank the IPC staff enough for inviting us to participate in this, this is really fantastic," he said.
IPC is one of the largest industry trade associations serving the global electronics industry. The organization recently signed a White House pledge to create at least one million new skilled workforce opportunities for American workers over the next five years. The students from San Diego are part of that future planning.

"We launched this STEM Outreach program in 2018 right here at the San Diego Convention Center with the goal of cultivating and recruiting the next generation of engineers," said IPC Senior Director of Trade Shows and Events Alicia Balonek. "It's a win-win because this outreach exposes students to a career path in the electronics industry before they enter college."

Students had the chance to "ask an engineer" questions during a career panel about how to boost their resumes and prepare for a future career path.

"After watching the women's panel and listening from an aerospace engineer today, I was able to learn about the two differences between mechanical and electrical engineering," said Otay Ranch High School student Don Block. "I think electrical engineering would be the best way for my career. I really want to be a space engineer. Before today, I didn't really know that those two fields were really interchangeable."
As educator Katie Carl regrouped with her Mission Hills High School students once more at the end of the day before heading to the school buses just outside the convention center, she said, "I cannot be anymore thankful for our experience today and what it means to the kids."
"After visiting the San Diego Convention Center today, the most impactful things that stood out was seeing the dedication of the volunteers from IPC, feeling all the support and having the professionals really take the time to explain things to students on how their product functions and how it is applied in the real world," she said.

Dr. John Mitchell, IPC President & CEO explained how his love of gadgets and gizmos led to a career in electronics and why it's important to invest in the next generation.

"Eleven years ago, there wasn't a smart phone," he told the packed room. "We don't know what the next 11 years will bring, but these students can help us get there. And thanks to our generous sponsors, we are able to invest in those students through six $1,000 checks for each school in attendance."
For more information about the IPC STEM Outreach program or to learn how to support the IPC Education Foundation, please contact Colette Buscemi at This email address is being protected from spambots. You need JavaScript enabled to view it..